Be the Change in our Community
As a business in our city, you know the value of giving back and building into our local community.  When you join UGM Dallas as a corporate partner, sponsor an event, or encourage your team of employees to volunteer as a group, you help change lives for the better in our community. We are blessed and very thankful for the many companies in the Dallas area who lovingly support the work of UGM Dallas.
We appreciate all corporate donations.  Here are some ways companies, such as yours, can help make a different right here at home:
Institute an option for employees to designate part of their paycheck to help care for the homeless in Dallas;
Encourage employees to give a monthly night of service by inviting them to come serve meals to our clients, provide much needed mentoring, or even adopt a building/renovation project for the Mission;
One of the most sacred blessings a company can bestow on the Mission is a chance to do an honest day's work. Please consider hiring the men and women who have completed our 18 month to two-year rehabilitation program. This type of giving is the start of a new life for one individual.
Hold clothing drives throughout the year allowing employees to donate, thereby giving and offer hope to the homeless;
Stock the Pantry
Thanks to Our Corporate Donors Partner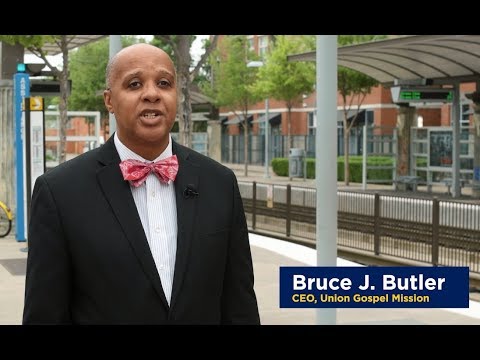 A wonderful testimony of how businesses can partner with UGM Dallas is exemplified in the relationship with Dallas Area Rapid Transit (DART).
For the past 22 years, during Christmas, Dallas Area Rapid Transit (DART) has led a Friendly Food Fight  among their employees to raise money and collect food to donate to the UGM Dallas.
HALCON, a DART contractor, continues to hire UGM Dallas disciples as mainline train cleaners upon completion of the Discipleship and Work Training Programs. The UGM Dallas disciples have received salaried positions with the opportunity to receive benefits.
Union Gospel Mission Dallas would like to thank Reading Glasses to Go for their generous donation of 230 pairs of reading glasses, hard cases and cleaning cloths to the clinics at Calvert Place Men's Shelter and Center of Hope. Our clients have benefitted greatly from this donation, and we look forward to our continued relationship with Reading Glasses to Go in the future. Learn more